A WALK THROUGH THE PARK AND A BOAT RIDE THROUGH TIME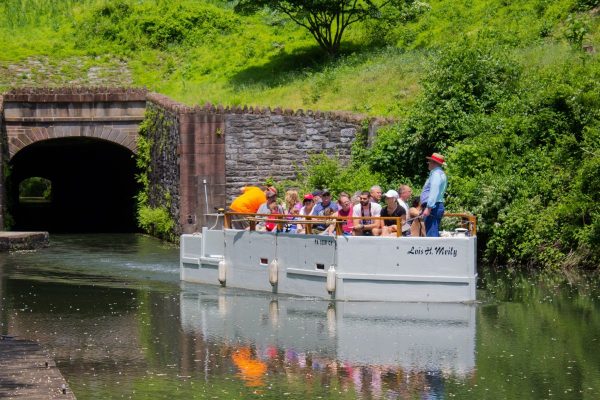 The 110 acres of recreational open space features three historical locks that were part of the Union Canal and includes a number of trails running along pasture, wooded areas, the canal, and farmlands.
The canal, proposed by William Penn as early as 1690, was desired to tap the agricultural wealth of the Commonwealth and to give access to a second settlement on the Susquehanna. The Tunnel was completed in 1827 and today is a treasured National Historic Landmark.
Visitors can walk on the towpath once trodden by mules, picnic at the mouth of the tunnel, or climb the marked trails through the wooded hill adjacent to the canal. The park is open from dawn to dusk. Visitors can also experience Narrated Canal Tours through the oldest existing transportation tunnel in the United States, each Sunday weather permitting, June through October. There are also designated guided kayak tour sessions through the tunnel available as well, with the option to rent or bring your own kayaks. Visit our event calendar for the dates. (Reservations required)
Boat tours through the tunnel also run during Union Canal Days, an annual 2-day festival happening May 20st and 21nd in 2023.

Union Canal Days – May 20 – 21, 2023

The 33nd Annual Union Canal Days is your chance to take a narrated boat tour through the oldest transportation tunnel left in the United States and really understand the importance of this Lebanon Valley historic treasure. Check out the exhibitors and vendors, listen to live music, purchase your spring garden plants at the flower booth, or take a chance on a raffle basket. Visit one of the food trucks and enjoy your lunch at one of the many picnic tables throughout the park. Bring the whole family for a day in the park, a boat ride through history, and so much more!
Best Known For  
Boat rides on the canal and through the tunnel are available the 1st, 2nd, and 3rd Sundays during the months of June through October from 12:30pm to 3:30pm, weather permitting. There are evening rides on nights when the moon is full.
What Locals Love About It. 
"Beautiful outdoor park which is also the site of a Civil War reenactment each year. Also boat rides available. Great place to get out doors." – Linda S. via Google.com
Membership Level: Non-Profit
Categories: Family Fun, History & Heritage, Lebanon, Pennsylvania, Outdoor Attraction, Parks, Things To Do, Waterways
The Union Canal Tunnel Park
25th & Union Canal Drive
Lebanon, PA 17046