GOLFING IN THE LEBANON VALLEY
ON PAR WITH BRAD

The Lebanon Valley is home to seven golf courses, each of which boasts a unique set of challenges and terrains in the picturesque landscape of the Valley. Check out some of the essential facts and features of these courses and their facilities in this guide to golfing the Lebanon Valley.
Plus, get ON PAR with insights from local amateur and golf enthusiast, Brad Longenecker.

IRON VALLEY GOLF COURSE

As one of the most scenic courses in the county, Iron Valley Golf Club offers a beautiful yet challenging layout. Designed by P.B. Dye, the course opened in 2000 and was ranked as the eighth best course to play in Pennsylvania by Golf Magazine in 2016 and the 22nd best course GolfPass's Golfer's Choice 2023: Best Golf Courses in Pennsylvania. Iron Valley has a links style front nine featuring an island par three hole, and a tree-lined back nine that showcases some incredible views. The course is a treat and has a great pro shop. Plus, the Miner's Pub features a delicious menu with food and drinks for before or after your round.
ON PAR WITH BRAD:
"A true test of golf. The black tees are long and can be the most challenging round you can play in the Lebanon Valley. A good shot is not always rewarded at this golf course. It's not unfair, you just need to know where to hit and where not to hit your ball here."
FAVORITE HOLE?
"#16. Love the approach shot here. If the wind is blowing, you can really lay up in a good position."
BLUE MOUNTAIN GOLF COURSE

Blue Mountain Golf Course is located just off of Route 22 in Fredericksburg. The course features challenging holes with small but excellent greens. It also boasts four sets of tees, making it suitable for players of all skill levels. Blue Mountain also has a small pro shop and a snack bar where you can unwind with sandwiches and drinks after your round.
ON PAR WITH BRAD:
"This course requires your full concentration. Hitting their small greens is not always the easiest. If you do miss, make sure you miss at the right spot to minimize making a big number."
FAVORITE HOLE?
"#6. Love the tee shot. You can easily drive this green, but your landing area isn't large. Over the green isn't a bad position depending on the pin placement."
LEBANON VALLEY GOLF COURSE

Lebanon Valley Golf Course is located in Myerstown, which sits at the eastern end of the county. The course is highlighted with rolling hills and challenging greens across a scenic country landscape. There is also a clubhouse at the course with banquet facilities and a covered patio. Lebanon Valley offers a small pro shop as well, in addition to a bar which features beverages and bites to eat.
ON PAR WITH BRAD:
"This is a club that will surprise you and show the weakness in your game. With uneven lies, blind shots and elevation changes, the course is on the shorter side but will still test your game."
MOST CHALLENGING GREEN?
"#16. On the approach, this green typically does not hold. Land your approach short and run it up. Your ball will keep rolling and rolling leaving you putting from the back of this green if it stays."
FAIRVIEW GOLF COURSE

Fairview Golf Course is located south of Lebanon on Route 72, just minutes from the PA Turnpike. Opened in the late 1950s, the course has stood the test of time as a local favorite among golfers of all ages and skill levels. After surviving an F-3 tornado in 2004, Fairview underwent extensive improvements in 2005 which brought new trees, new bunkers, improved tees, and even the addition of a tricky water hazard on the tenth hole. Golfers can enjoy a full round of 18 or swing by the course for a session on the full-service, all-seasons driving range. Fairview also boasts a full-service pro shop and Knickers Restaurant & Bar, where golfers can enjoy breakfast, lunch, snacks, and a wide selection of brews.
ON PAR WITH BRAD:
"Playing this course is pretty straight forward: it'll give you what you take. Don't play too aggressive—the safe play will be rewarded on the score card."
FAVORITE HOLE?
 "#8. This one requires a demanding tee shot. Trouble both left and right but a down the middle tee shot will take the stress of this hole way down."
ROYAL OAKS GOLF COURSE

Touted as one of Central Pennsylvania's most prestigious golf courses, Royal Oaks Golf Course features breathtaking views characterized by lush fairways and immaculate greens. The course is a Ron Forse-Design, 18-hole championship golf course that presents a challenge for golfers of all skill levels. Beyond the course, Royal Oaks also operates a practice facility featuring a driving range, putting green, and chipping green, all of which are open daily to the public. Additionally, there is a well-stocked pro shop and snack bar on site.
ON PAR WITH BRAD:
"I always like a course that can play long and give you a different look depending on the tees you choose. This course does just that with a great layout. Plus, it'll let you use all the clubs in the bag. I tend to play half the amount of break I see on the greens. Putt well and you can score on this course."
FAVORITE HOLE?
"#1. Right out of the gate make eagle or birdie at this par 5 and start your round off under par."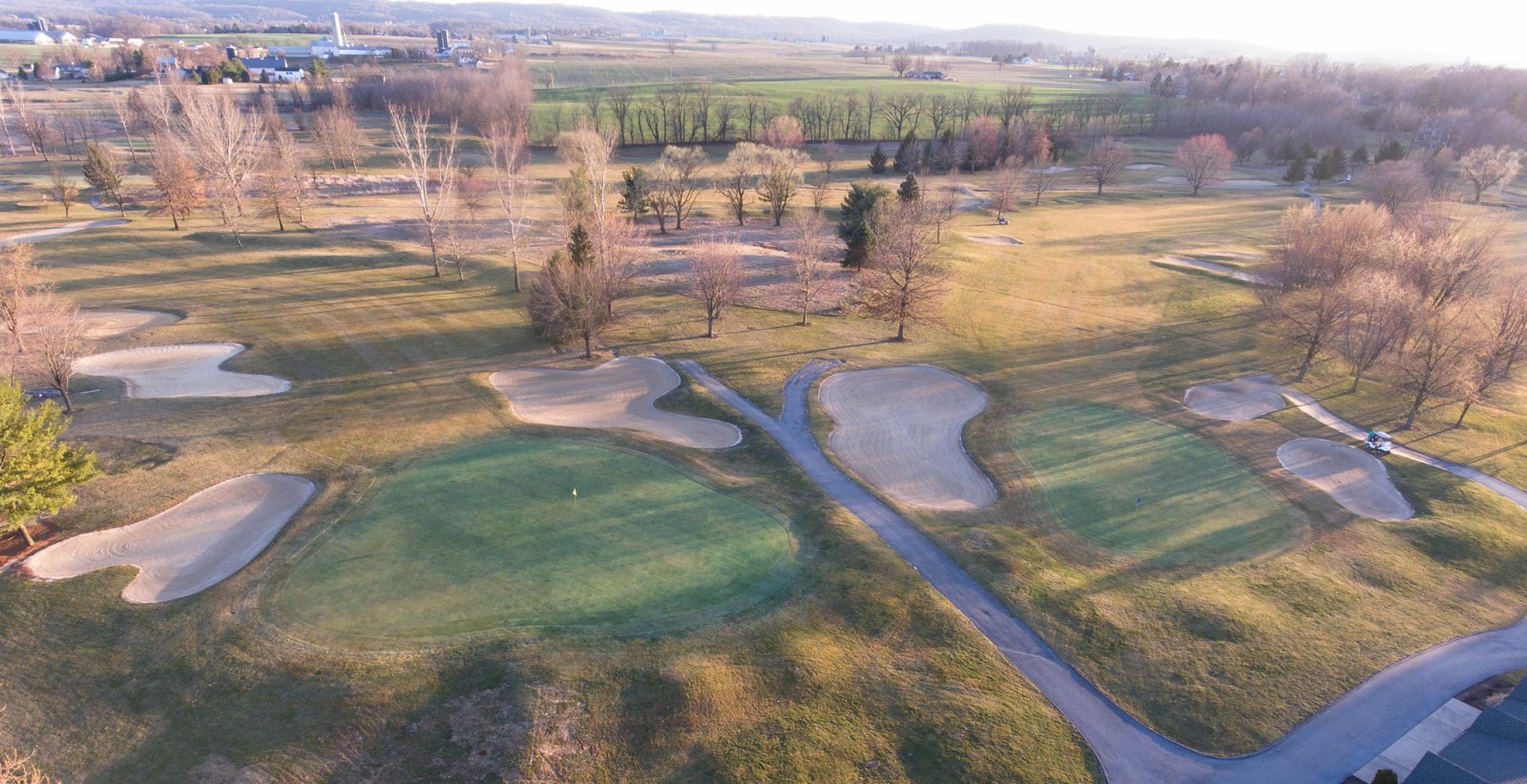 PINE MEADOWS GOLF COMPLEX

Located in the northern end of the Lebanon Valley, the challenging contours and bent grass fairways of Pine Meadows Golf Complex weave effortlessly throughout the natural beauty of the Swatara Creek and surrounding wetlands. In addition to their 18-hole championship course, Pine Meadows also has a driving range, chipping and putting green, and fully stocked pro shop, making it a great facility for practicing and perfecting one's game. Plus, the on-site Wetlands Restaurant has a full food and drink menu for both pre- and post-tee time fine dining.
ON PAR WITH BRAD:
"This course used to be nine holes when I was growing up and has since been developed into an 18-hole championship golf course. A seasoned member might know which holes are old versus new, but the conditions are usually spot on across all 18. There are some tricky greens, but play a couple of rounds here and you'll surely learn the lay of the land."
FAVORITE HOLE?
"#16. Your tee shot is a layup for sure, but if you can get yourself into position here and strike a good approach shot, it's a chance at birdie."
LEBANON COUNTRY CLUB

The Lebanon Country Club is a private course that was established in 1920 and designed by Scottish architect Alex Findlay. The course features many of the attributes that make the Lebanon Valley so beautiful, including a picturesque landscape over rolling hills. USGA and Audubon certified, this parkland golf course is open for play year round with varying shot selections and hole lengths that make it a challenge for all skill levels. Lebanon Country Club also operates The Golf House, a full-service golf shop, as well as two dining options: a fine dining room and a relaxed pub.
ON PAR WITH BRAD:
"This is a private course that should always be on your list to play when you're in the Lebanon Valley. If you know a member to get you access to the course, pay whatever the going greens fees are and you won't be disappointed. The conditions are top notch here, from tee to green it's hard to question anything. The greens are pure, putt well and you'll surely be rewarded. It will give you fits playing from the trees though, so keep it down the middle."
MOST CHALLENGING PUTT?
"# 3 without a doubt. This par 3 is short but the front to back slope makes putting extremely difficult and very speedy."
Brad Longenecker is a local golf amateur and enthusiast. He has a deep love for the game, and it has brought him much enjoyment throughout the years. As a resident of the Lebanon Valley, Brad is no stranger to the courses found in and around the county. Off the course, he works as a realtor for Iron Valley Real Estate, trading out his tees for keys.
Best golf advice he ever got?
Have a solid short game chipping and putting, you will shoot lower scores the better you get.
Golf Courses Around the Valley