A few year's ago, I saw an online review of Mt. Gretna complaining that they didn't understand what all the hype was about. "We drove through it twice before we realized that was all of it. What a disappointment." Thinking about that review makes me smile.

It's obvious when they wrote it, it was not Memorial Day through Labor Day. During that time, the free public parking lot adjacent to 117 is usually quite full. Seasonal treats of the Jigger Shop (iconic ice cream parlor), and the full schedule at the Mt. Gretna Playhouse where Gretna Theater, Gretna Music, and Original Mt. Gretna Cicada Festival all present from May – September in the open-air 700 seat hall are a must-do for many local families. Gretna Theatre and Gretna Music also each offer children's and family programming. The PA Chautauqua Summer Programs has over hundred programs each summer (many are free and a few geared towards children like the Fairy Ice Cream Breakfast), from yoga, to Tuesday Book Reviews, to lectures on Science, Religion, and History. There is also a privately owned lake, and mini-golf.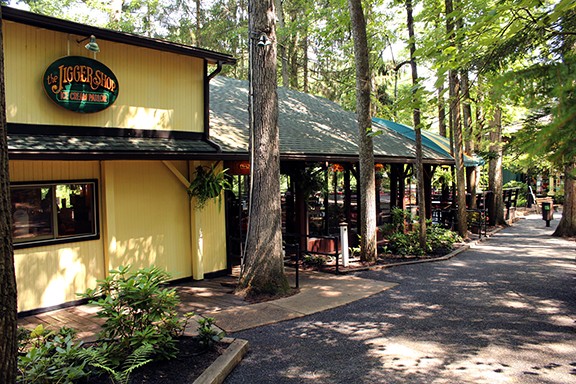 Also in the summer, the historic Timbers offers top-notch cabaret style shows with a diverse menu. Thousands flock to walk around the Mt. Gretna Outdoor Art Show weekend in August where hundreds of Mt. Gretnan's volunteer their time and the
proceeds are donated back to local organizations to make this the biggest community- wide event of the year. There is also kids' activities and a kids' section at the Art Show that encourages young local artists to sell their art. Mt. Gretnans also show their community pride when they open their doors each first Saturday in August for the self- guided Mt. Gretna Tour of Homes and Gardens that showcases about a dozen homes and historic buildings.

In the area known as Campmeeting, the Mt. Gretna Bible Festival, the Heritage Festival, and Larry Mckenna's Summer Concerts keep the Tabernacle brimming with activity. One can stop at the Mt. Gretna Visitor Center in the Summer to get more info or grab a This Week In Mt. Gretna flier to see all that is going on. And little ones need to look behind the Visitor Center for the Fairy Garden.

So though the summer is jam-packed with activity, there are so many real Mt. Gretna gems that shine year-round. Where the reviewer sped past and saw no reason to stop, the locals and "those in the know" quietly enjoy… Porch and Pantry is one of the best places in all of central PA for breakfast and lunch with gluten free and vegan options on the menu. The Mt. Gretna Pizzeria offers no-frill food at modest prices and is a local favorite hangout. And though the Timbers only runs its cabaret show in the summer, they are a full-scale restaurant and bar year-round where they often feature some of the areas best jazz musicians and other local artists.
If you walk around Mt. Gretna, you are sure to see colorful tablecloths on many porches that share a similar look. Check out La Cigale to choose your own and check out the Gallery at La Cigale which highlights works from local artists. There is also the historic Mt. Gretna Roller Rink with its wooden floors. Speaking of history, the Mt. Gretna Area Historical Society Museum is right next to the Playhouse. Along with their displays, they offer guided walking tours around Mt. Gretna as well as a self-guided tour called tutouria you can get on your phone. Across, on the other side of 117 is free parking area for the beloved Lebanon-Valley Rail Trail. Bikes and horses are welcome along with joggers and walkers on this flat well groomed trail. Just walking around Mt. Gretna is a treat. You step back in time and its always fun to see the names the owners have given their beloved cottages and homes and how they have uniquely decorated their porches.
Special Note: The very best way to enjoy Mt. Gretna is from a porch. If you are lucky enough to be invited to sit a spell or visit someone who lives in Mt. Gretna, do it! You can get a real sense of the Mt. Gretna lifestyle. Some locals rent out their homes on vacation rental websites. Various areas of Mt. Gretna have different rules on such rentals.

The Clarence Schock Nature Center at Governor Dick is a must. All different levels of hiking and bouldering in the park. The friendly staff have great family and children's programs and displays. They can guide you to the best way up to the Governor Dick tower (about 20-30 minute hike each way)…a treat for all ages to climb to the top of the tower for a bird's eye view of the beautiful landscape below. A hike up Governor Dick is a favorite for when we have guests visiting from out of the area.
No matter what time of year you go or in what activity you partake, Mt. Gretna is a place where you can take a deep breath and feel your body relax. With all it's trees, it is proven to be a few degrees cooler than many other places in central PA…and cooler because of all the cool people that live and work here with a real sense of pride of welcoming visitors who are interested in learning more about this unique place. Their history is so unique with parts of Mt. Gretna being a Chautauqua, a Campmeeting, a former railroad stop, as well as part of local military history.

Helpful hint: Do check before you go as business hours differ for all these places. In other words, don't be like the online reviewer who did not know where to look, stop, and enjoy!
So where is Mt. Gretna? It's right on the Lebanon – Lancaster County border. About 30 minute drive from Harrisburg, and Lancaster, even closer to Hershey. About 15 minutes from downtown Lebanon.
Due to Covid-19 many 2020 activities one expects to occur in Mt. Gretna were cancelled. But as I hope this article shows, with a little bit of prep work, you can plan an ideal day in the area.
____________
Suzanne Stewart and her husband are enjoying being empty nesters and checking out all the cool places in Lebanon County. She lives just over the border in northern Lancaster County. A Penn State grad, she has been executive director of Gretna Music since fall 2012.