I'm a traveler; a road tripper; a seeker of Small Town, America. As someone who's work takes her across the country in search of all that makes this country good, I find myself always eager to get back to my hometown of Annville, PA. I spent most of my life here… my childhood home, the home where I raised my children, and the home I plan to retire in… are all within one half mile of each other! You could say that this Pennsylvania Dutch girl always found her way back home.
As an empty-nester, I could have chosen to make my final residence in any small town I wanted, and I've been to many that were very tempting. But I wanted to set roots in a place where I felt at home, had easy access to the major highways, and was close to family and friends.
Within a 20 mile radius, I can get a taste of city life in Harrisburg or Lancaster, enjoy the history and cultural events of Hershey, and scoot away to a little artistic haven called Mt. Gretna, one of over eighteen Chautauquas across the country. Heck, even my favorite lake is only an hour and a half drive from Annville, and my favorite beach destination a 3-hour drive to the Southeast!
But what is it about this little town that REALLY makes it so appealing? It's familiar. It's friendly. And it has so much to offer. So, what would a perfect day look like to spend with your family in Annville? Put on your sneakers… here we go!
Let's start with a morning walk through Quittie Glen Nature Park! This little slice of heaven is kept up by community volunteers through the Friends of Olde Annville. There is a meandering trail that hugs the Quittapahilla River through age old oak and sycamore trees, natural wildlife, and old lime kilns. It's the perfect way to start your day.
Heading downtown, we find Swatara Coffee located on Main Street. This newest addition to our town has a variety of unique coffees, pastries, and sandwiches, including breakfast all day long! There is plenty of outdoor seating under the awning where you can plan out the rest of your day.
While you're on Main Street, I suggest you shop next door at Stewart's Gift Peddler, and hop across the street to the Whirling Dervish Bakery for out of this world baked goods. Make sure you try the chocolate covered peanut butter balls! You can thank me later.
For artistic fun for the whole family, visit Splat Studio! Or if it's a movie you'd rather see, head across the street to The Allen Theatre. If the family needs to split up for a bit, I suggest the guys go catch a game and a bite to eat at the Rotunda Restaurant & Brewery… they have great beers on tap, with a unique South American menu. Did I mention the smoked wings? Just get them. Again, you can thank me later. Maybe some folks would like to practice their target shooting at the indoor shooting range at 911 Rapid Response. Ladies, if you need a mani/pedi, there is a new place in town… Unveil Salon… a full-service salon that will have you walking out looking your best!
Annville is home to Lebanon Valley College, making it a destination for those seeking culture, history, and plenty of musical events. The college campus is also a beautiful place to walk, especially around the Peace Garden. Read a book as you sit in one of the Adirondack chairs by the koi pond, or just enjoy the peace and quiet.
As a young girl, I'd go to the Annville Free Library after school for story time. Still today, the library offers amazing programs for all ages and truly makes this town shine. And while it has closed for the summer due to the pandemic crisis, the Community Pool is a great place to cool off in the summer. The kids will love it!
If you need a place to stay, The Patriot House is a beautiful historic Bed & Breakfast. And just north of town is the Annville Inn with its sprawling gorgeous views of the countryside.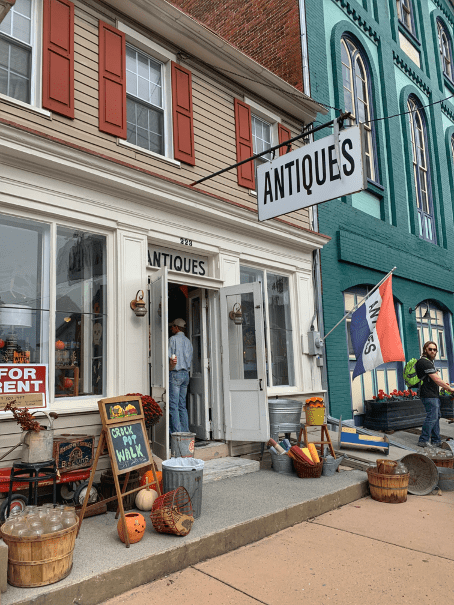 A little further off the beaten path, but still a part of Annville, is Fort Indiantown Gap. Grab some takeout and go watch the helicopters do their training routines. The Gap also boasts a community swimming pool and a community club both of which are open to the public! Locals like me enjoy trivia night on Wednesdays at Arrowhead Bar & Grill, located inside the Community Club, or the unique menu selections at Snitz Creek Brewery and Harper's Tavern.
End your day with a sunset walk at Memorial Lake, with its surrounding trails suited for walkers and runners alike. You'll see families cooking out under the pavilions, kayakers and fisherman enjoying the lake, and wildlife lovers taking advantage of the turtle platforms, bat and duck boxes, and the butterfly field.
Annville is home to many more family run and solo entrepreneurs, and now more than ever they need our support.
Ultimately, visitors can tell when a small town has character. It speaks to them from the walls and windows of the storefronts, the alleyways, the open spaces, the friendly faces, the honk of a horn to say hello, the bikes dashing off to a friend's house, the dogs running up to the fence, or the crack of a baseball bat in the distance. When people visit a small town, they don't want to be entertained; they want to belong. They want to escape the ordinary and step into the extraordinary. They want to make connections with people and experience the slower pace of America that only a small town can provide. Annville is one of those towns. Come and stay a spell.
___________
Marjorie Henise is the founder of Destination Main Street, an online guide to unique small businesses and social media strategies for downtowns and main streets. Marjie tells the stories of not only the shops, but also the towns and communities they represent. She also specializes in social media content creation, focusing on photography and story telling, to earn small businesses the online recognition that they deserve. Coming from a small town herself, Marjie knows the value of being a neighbor first and looks forward to helping more local businesses flourish!