FEBRUARY: BLACK HISTORY MONTH
The Lebanon County African American Heritage Trail offers you and your family a guide to exhibits and historic sites in our county that are related to Black History. With some of these sites traced back to the 1700's there is lots to see, read, and learn about the people and places that helped to shape this area of Pennsylvania.
1. Governor Dick Park
3283 Pinch Rd., Mt. Gretna, PA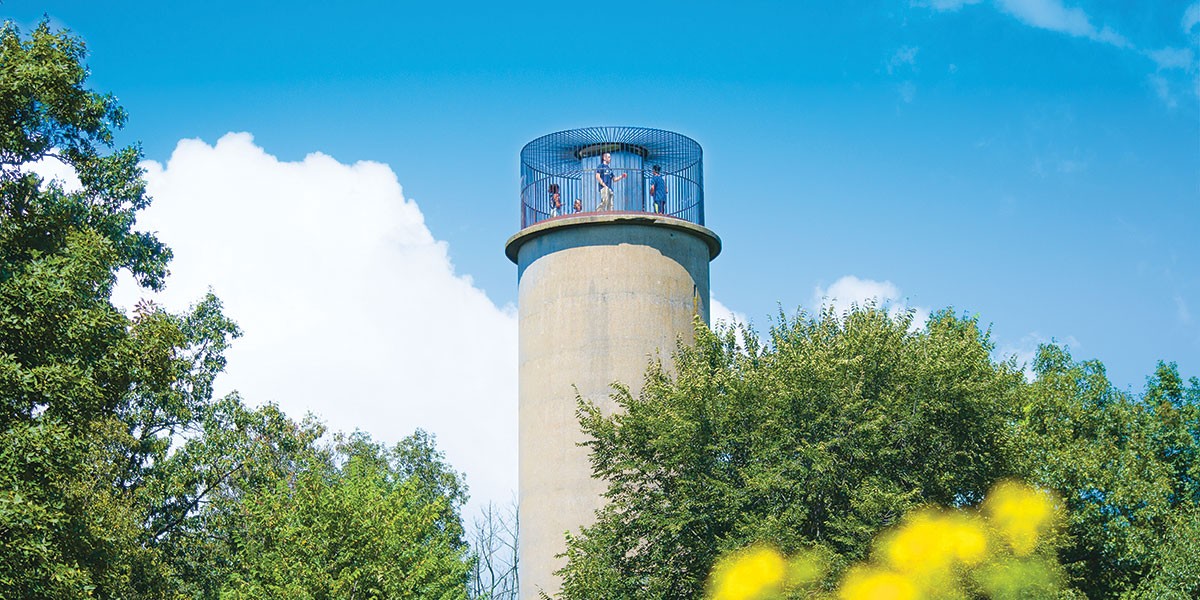 Gov. Dick Runaway Newspaper Ad, 1796
Located just south of the borough of Mt. Gretna, Governor Dick Hill is a popular destination for recreation and learning among outdoor enthusiasts. And though it boasts an environmental center, hiking trails, and an observation tower that overlooks five separate counties, the history of Governor Dick goes far beyond the natural scenery.
During the Revolutionary War, Cornwall Iron Furnace greatly depended on Hessian prisoners of war and enslaved African Americans to produce charcoal fuel in the surrounding forest. One of those enslaved men, known as "Governor Dick" to his fellow slaves and company owners, was likely born in Africa and purchased by 1776 from a plantation in Hartford County, MD. Dick was the oldest of at least 25 enslaved African Americans who toiled for the nearby iron furnace. The furnace owner might have designated him as slave foreman, leading to his title, "Governor". On April 17, 1796, Governor Dick successfully liberated himself from Cornwall Iron Furnace and vanished from the documentary record. However, the forested upland on which he worked and lived while tending smoldering charcoal mounds came to be called "Governor Dick Hill".

"History has shown us that courage can be contagious, and hope can take on a life of its own."
— Michelle Obama
2. Cornwall Iron Furnace
94 Rexmont Rd., Cornwall, PA
Runaway Newspaper Ad, 1772
Interior of Cornwall Iron Furnace
Peter Grubb established Cornwall Iron Furnace in 1742 to take advantage of what would become one of the most productive iron sources in the United States, the Cornwall Ore Mines. Under the Coleman family during the American Revolution, this furnace cast cannons and cannonballs for the Continental Army led by General George Washington and remained active for a century thereafter. Known today as the only intact charcoal-fueled blast furnace still standing in North America, it forms the jewel of Cornwall Borough's National Historic Landmark District.
During the entire history of iron production in Cornwall, African Americans have toiled there, first as enslaved people, and later as paid employees. During the early 1752 to 1830 period, over 100 enslaved African Americans worked at the mine, furnace, and estate at Cornwall. Following their emancipation, those former slaves migrated away from the furnace lands.  After the American Civil War and Reconstruction, post 1877, some black workers and their families arrived from the South to work at the furnace.  Many lived in company housing alongside other ethnic groups, including recent immigrants from Mexico and Southern and Eastern Europe.
In the century from the end of Reconstruction to the 1970's, Cornwall's Black community helped to create many of the areas features that remain intact today. These surviving structures and landscapes include the former Cornwall Baptist Church, the great iron ore mine (flooded since the 1970s), the Cornwall Iron Furnace itself, and many of the houses that were once home to a diverse community.

"Every great dream begins with a dreamer. Always remember you have within you the strength, the patience, and the passion to reach for the stars to change the world."
— Harriet Tubman
3. St. John A.M.E. Church
1244 Walnut St., Lebanon, PA
AME Church
Newspaper Ad, 1772
Lebanon City's oldest organized African American church can be traced to the early 1900s. St. John effectively began in August 1915 when Reverend Charles J. Morton rented an existing 1911 building at this location. That structure had belonged to Saint Francis Parish, but in March 1915 widow Mary Jones Hicks and her partner James Over had acquired it, along with its church furniture. Mary's father, Owen Jones, had hosted Sunday School services and A.M.E. preaching at his apartment in old "Light's Fort" as early as 1904.
In 1917 Reverend Morton and the St. John first Board of Trustees purchased the entire church property from Hicks and Over. Thereafter, the congregation periodically upgraded the church—first by replacing the foundation with concrete and a cornerstone, then by replacing the original system of wooden poles with standard dimensional lumber.
From 1915 to 1941 Reverend Morton led St. John, regularly soliciting contributions from shoppers in downtown Lebanon, dressed in formal garb and collecting money in an upside-down, partially open umbrella, which earned him the popular moniker "the Umbrella Man." Reverend Morton's first wife passed away, and he eventually remarried at St. John. At the ceremony, his popularity attracted several hundred well-wishers—black and white—the great volume forcing need to control admission to prevent the small church's floor from buckling.
Notable members of St. John AME were the late Reverend Robert Lee Pruitt, a Bishop in the African Methodist Episcopal Church, as well as Edith White, the wife of Reverend Donald G. Ming, Bishop of the First Episcopal District of the Philadelphia Conference. The late Mrs. White Ming served with her husband as Episcopal Supervisor in the African Methodist Episcopal Church and served as the first black President of the World Federation of Methodist Women.

"You can't separate peace from freedom because no one can be at peace unless he has his freedom."
– Malcom X
4. Lebanon County Historical Society
924 Cumberland St., Lebanon, PA
Lebanon High School Football Team, 1913
Charter members formed the Lebanon County Historical Society in 1898. Its mission of collecting, presenting, and preserving the county's history embraces all the people and communities that have lived within its present borders. The Society's headquarters on West Cumberland St. in Lebanon includes many valuable educational and historical resources touching on diverse aspects of the county's African American heritage.
Among the most notable of those resources are ledgers from Cornwall Iron Furnace dating as far back as the 1760s listing enslaved African Americans who toiled at the variety of jobs within the iron furnace complex; census records listing Black teenage boatmen on the Union Canal; Civil War pension records; high school yearbooks and athletic team photographs; and more, many of which include local African American residents. Some of these resources, especially those that are oldest or most rare, require prior contact with Society staff to ensure access, especially to those traveling from a distance.
The Society also serves as a valuable resource for researchers seeking documentary evidence of African American life and heritage beyond its walls, such as traditionally Black neighborhoods within the city and in some of the county's smaller towns.

"I had no idea that history was being made. I was just tired of giving up."
– Rosa Parks
5. Light's Fort
660 N. Eleventh St. Lebanon, PA
Plaque over the door at Light's Fort
Built in 1742 by the immigrant German Mennonite farmer Johannes Peter Leicht, Light's Fort is the oldest building in Lebanon County and steeped in a long and diverse history.  First built as a dwelling-place with livestock stables on the ground level, it has served as a frontier farmstead and Mennonite religious meeting place; a place of refuge during the French & Indian War (1756-1763); a family-run liquor distillery; possibly as a warehouse on the Union Canal; and the residence of Black Civil War veteran Owen Jones, who organized some of the county's first A.M.E. Sunday school classes and preached service in the city.
At least as early as 1904, the Lebanon Daily News carried advertisement for services held regularly at the Jones dwelling in the old Light building. In 1915, Jones's daughter Mary Ann Jones Hicks was instrumental in acquiring the current property of St. John A.M.E. Church. Daniel Jones—father of Owen, grandfather of Mary Ann—claimed to have been enslaved on the estate of President Jefferson and is buried in northern Lebanon County.
Thus, in addition to its celebrated colonial history, Light's Fort is a significant place of historic African American agency in Lebanon County.

"The way to right wrongs is to turn the light of truth upon them."
— Ida B. Wells
6. Fort Indiantown Gap
National Cemetery
60 Indiantown Gap Rd., Annville, PA
Fort Indiantown Gap, 1941
Fort Indiantown Gap is an active National Guard Training Center and serves as the headquarters for the Pennsylvania Department of Military and Veterans Affairs and the National Guard. Prominently sited on the southern boundary of the Gap is Indiantown Gap National Cemetery.
At this cemetery lie the remains of three African American veterans who served in the Civil War: Private Greenbury Stanton, Private John Nelson, and Corporal William Anderson. After spending 130 years buried in an overgrown and forgotten backyard cemetery in Cumberland County, in 2016 the remains of these three Union Army veterans were disinterred and, in a special ceremony, posthumously honored by being permanently laid to rest at Indiantown Gap National Cemetery.
Also of significance, established in 1942 at the Fort Indiantown Gap, the Transportation Corps Unit Training Center was a stevedore training program, which trained soldiers to load and unload cargo using three specially constructed wooden and concrete dry-land ships.
Working as a stevedore can be intensely demanding physical labor.  Many of the men recruited to the program were African Americans who were segregated from their parent corps during and after their training, even after President Franklin D. Roosevelt's 1941 executive order prohibiting racial discrimination by any government agency, including the armed forces. The stevedore training program here at the Gap was a vital component of the Allied war effort in World War II, a program in which Black Americans played a crucial and outsized role.

"We are not makers of history. We are made by history."
— Martin Luther King, Jr.